*Please note your Office 365 Admin Portal may look different as Microsoft is rolling out Portal updates.
1. Log into the Office 365 Portal with Administrator privileges. You should see the "Admin" choice along with all the other Office 365 services.

2. Click on the "Admin" drop down menu and select "Exchange".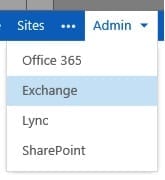 3. Click on the "mailboxes" link under the "recipients" heading.

4. Using the Search bar please look up the user you want to enable legal hold on. If you want to enable this for all users please double click the first user.

5. Once you double click the user a window like this will either pop up or open depending on your browser settings.

6. Click on "mailbox features" and scroll down until you see "Litigation hold: Disabled". Click on the "Enable" link.

7. A windows like this appear, click save.

8. The "Litigation hold: Disabled" should now read "Litigation hold: Enabled". Please press "save".


9. A pop up like this will appear please click ok. This warning is letting you know how long it will take before the Litigation hold will take effect. The windows will close.