Cloud computing services in general refers to offsite computing with data and applications running on a virtual server in a secure data center. Cloud Services is here to stay: we are seeing an increasing number of clients move their IT infrastructure to Cloud Computing!
ERGOS' dynamically scalable and virtualized cloud services infrastructure provides everything IT you need to run your business. The ERGOS Cloud is custom tailored to your company's needs with a robust, dynamic, fully-integrated system that is completely web based.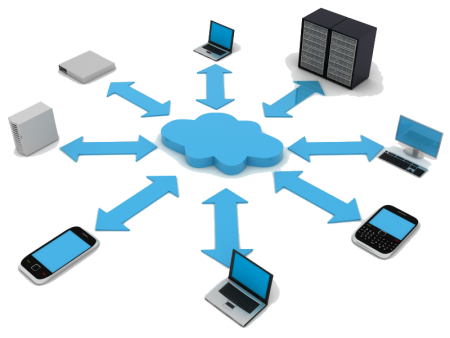 Access Files from Anywhere
The Cloud can be accessed from just about any PC, Mobile device, or Thin Client with an internet connection. Now you can have a virtual office anywhere you go allowing your employees to be more productive even when they are not in the office.
Reduce Costs
With the ERGOS cloud, we host and maintain your business applications and data for you without the costs of new hardware, upgrades and maintenance fees. Replacing aging hardware and software can get expensive, but ERGOS can help you upgrade your business without spending on extra hardware and software upgrades you may never use.
Safe and Secure
All client data is backed up both locally and offsite in two different locations across the country to ensure that your data is safe and secure in the event of a disaster.
Be Prepared! Since all data is backed up offsite, if a disaster strikes, everything will still be available to you. All you need is an internet connection. Your business will be able to continue functioning with minimal downtime even if your employees are not able to make it in to the office.
Hassle Free Maintenance
ERGOS cloud services keeps your hardware and software efficient and up-to-date so you can keep your focus on your business. You will never have to worry about server maintenance or software updates again when you outsource your IT solutions. ERGOS has cloud IT and managed IT services offices in Dallas, Austin, Houston and Dubai – Contact Us Today to help with your cloud computing solutions.
Get expert guidance from your trusted advisor
Contact us today to discuss how we can unleash the power of technology for your business